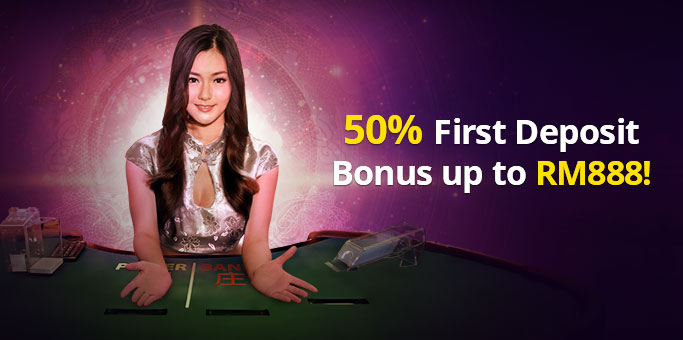 First Deposit Bonus
Promotion Start Date: 01 April 2017 (GMT +8)
Make your first deposit to receive a special bonus!
No account yet? Sign up now!
Make your first ever deposit into Live Dealer and Games wallet with a single transaction and meet any of the set minimum deposit requirements.

Level
Percentage
Minimum Deposit
Requirement
Maximum
Bonus
Level 1
50%
RM50*
RM288**
Level 2
50%
RM888***
RM888***


*RM50 = USD10/GBP10/EUR12/RUB650/PLN45
**RM288 = USD65/GBP50/EUR60/RUB3,700/PLN260
***RM888 = USD200/GBP160/EUR185/RUB11,500/PLN800
Receive your corresponding bonus the next day (GMT+8).
This promotion is exclusive for players who do not have any deposit history on Live Dealer and Games wallet.
Players must achieve the set Minimum Deposit Requirement with a single transaction to qualify for the 50% First Deposit bonus.
A fund transfer from any Dafabet product can be used to make your first ever deposit to Live Dealer and Games wallet.
Bonus will be based on player's first deposit amount.
Players who make a successful first deposit will receive their bonus the next day (GMT +8). Players can receive the bonus only once.
Bank fees added in player's account on top of the deposit will not be counted as part of the deposit requirements set for the offers in this promotion.
Level 1: 10x (bonus amount) wagering requirement.
Level 2: 25x (bonus amount) wagering requirement.
Bets on all Jade Club [TGP], Diamond Club [AG], Black Pearl Club [AB], and Topaz Club [GD] live dealer games are considered for the wagering requirement.
Only one account per player is allowed. Players opening multiple or fraudulent accounts will not qualify for the promotion and may have their funds forfeited and accounts frozen.
Dafabet has the right to amend, cancel, refuse, or reclaim any promotion in its sole discretion.
Dafabet reserves the right to make the final decision.
Dafabet's "Terms of Use" apply.